FORMS SUMMERJAM 2008
Yes it's happening again, the yearly Summerjam, this time with 3 area's:
- FORMS AREA - DRUMANDBASS (22:00-4:00)
- LABEL ME AREA -MINIMAL, TECHNO, DUBSTEP (22:00-4:00)
- CHAMELEON OUTSIDE AREA - ECLECTIC (19:00-22:00)
BROKE MY HAND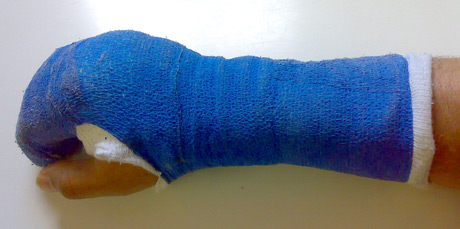 I broke my fingers last week while skateboarding... It's broken in 3 places and it will take till the first week of august before the cast goes off.. fucking hell.
So the summermix i had planned to record last week will have to wait some more weeks, let's hope the summer lasts.
Happy New Year to everyone!
FORMS IS BACK
Forms will be hosted at two new venues for 2008!
23rd of february we'll have the mighty Cause4Concern ripping up the Willemeen, end of March we'll have another edition at the Willemeen.
Then... the 31st of May we'll have the first FORMS at the Luxor Theatre! XXL Business.
Supergroover
The mix for CE radio is done, check out 'Supergroover' at the mixes page for this smooth liquid mix.
0031 Podcasting presents: TRAP with his porncast
The Porn mix... It's done! Download/stream it from the mixes section, loads of good feedback on this mix, check it out.
The previous 0031 Podcast by Noble is online here, check it, i like it a lot.
Cultural Evolution radio mix
It is done! Check it out on the mixes page. It was aired 4th of may on jungletrain.net and reactions so far have been good.
Go get it.
Now!
---